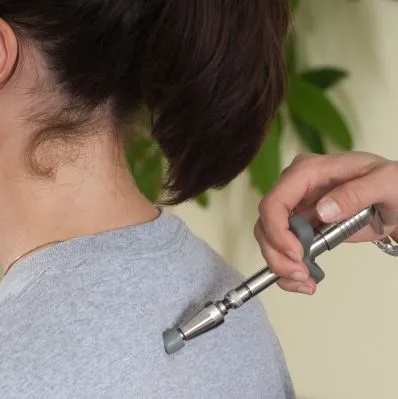 One way that chiropractor Drs. Roy Clarke and Dr. Danielle Clarke provide accurate chiropractic care in Altamonte, FL is through advanced techniques. For patients interested in specialized pain relief we offer Activator, Thompson, and Flexion/Distraction modalities here at Beyond Medical. Discover the difference between these three chiropractic techniques to see which best suits your chiropractic needs.
Activator Method

As one of the most popular chiropractic techniques, the Activator Method uses an instrument to provide a chiropractic adjustment. It has been in use since 1967, and over the years the instrument and method has been fine tuned to offer individuals with more accurate chiropractic care. Using an instrument following this method allows Drs. Roy and Danielle Clarke to make very precise adjustments. For neck injuries involving the smallest vertebrae of the upper spine also known as cervical vertebrae, the Activator Method is highly beneficial.
Thompson Chiropractic Technique
The Thompson Chiropractic Technique originated by Dr. J. Clay Thompson more than 50 years ago in 1957. Today this technique, which uses an adjustment table to control the chiropractic adjustment, is widely accepted in the chiropractic community. The table is controlled using pneumatics and is able to stretch the full spine. Individuals can benefit from a total adjustment with a special attention to the dorsal, pelvic, and lumber regions. It is considered by patients to be the least forceful thanks to the thrust and drop movements of the table.

Cox Flexion/Distraction Technique
Both Drs. Danielle and Roy Clarke are trained to provide the Flexion/Distraction Technique during chiropractic adjustments. With Flexion/Distraction therapy you can receive treatment for the lumbar spine. We are able to treat several conditions including bulging discs and herniated discs using this non-invasive chiropractic technique, which was developed by Dr. James M. Cox. The Flexion/Distraction Technique also helps to increase spinal motion and overall mobility. The way this works is by placing small amounts of flexion distraction along the area of the spine that is suffering from vertebrae injuries.

Your Altamonte FL Chiropractors for Chiropractic Care
As your preferred Altamonte FL chiropractors we hope you will choose Beyond Medical for your chiropractic care. Using the most advanced modalities allows our Drs. Danielle and Roy Clarke to give you precise treatments. Resolve your pain or opt for drug-free pain management with a chiropractic session at Beyond Medical. Our practice serves the communities of the North Orlando area including Casselberry, Maitland, Apopka, Lake Mary, Winter Springs, Sanford, Longwood, and Winter Park. Contact our office at (407) 261-1001 to get started. Inquire about our free chiropractic consultation as a new patient.